Roast Pork with Garlic Gravy
---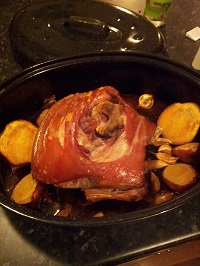 In honor of the release of my next book, Empty Nests (Nested Heart #1), this coming June I will be publishing a few recipes for dishes that appear in the book.
The first one, which will be the base for a later recipe, is Roast Pork with Garlic Gravy.
Ingredients
1 Pork Roast (Large) – Get the largest possible roast, shoulder is good, on the bone with skin.
1 Large Head Garlic
Onions – 1 for every 2 people, if they like roasted onion
Root Vegetable – (Red Kumara if you can get it, potatoes, carrots, etc)
Olive Oil
Rock Salt – regular table salt will give you a weird result. You want to use salt in larger chunks.
Flour or other thickener for gravy.
Green Vegetable of some sort.
Pre heat oven to 180C/325F
Put your roast in a large roast pan with a lid, skin side up. There should be enough room to fit all the veg in as well. Make sure the pan fits in the oven before you even start.
The skin might come pre scored. If not take a sharp knife and cut through the skin and fat but not the meat under it. Some suggest that the crackling comes out better if you pour boiling water over the roast at this point to tighten up the skin. In my experience it works either way.
Rub the skin with olive oil and sprinkle evenly but not thickly with sea salt. This is not a recipe to use if you are on a low sodium diet, or really any kind of diet.
Break up the head of garlic and put the cloves in the pan. DO NOT PEEL THE CLOVES. You'll be fishing them out later.
Cut the onions in half and toss them in the pan. Then cut the root vegetables in half and throw them in as well. If you can get Red Kumara use that. It's sweet like sweet potato but not too sweet and with a better texture when cooked. Keep in mind that if you use carrots or roast pumpkin it will transfer some of the flavor to the gravy. Pumpkin can transfer quite a lot of flavor in fact.
Place in oven.
According to The Joy of Cooking 20th edition, bake for 25-35 minutes per pound at 325F.
According to Edmonds Cookery Book 57th edition bake for 25-35 minutes per 500g at 180C
You can work out the rest of the math from there. You'll want to time things so it comes out a half hour before you plan to eat.
Now go off and do something else.
Welcome back.
Take the roast out of the oven. Do not cut into it, just leave it alone, it's time to make crackling.
First carefully remove the skin from the roast. You do not want to cut into the meat. If things are properly cooked you should be able to use a pair of metal kitchen tongs to peel it off. Use your kitchen shears to cut it into manageable sizes that should lay flat.
What do you mean you don't have kitchen shears? They are the most useful kitchen tool ever, you will use them for everything, go out and get a pair right now I will wait. Seriously. Go.
Next, turn your oven up high. Not as high as it can go but pretty high. Higher than you would use for anything else. I usually do it at about 225C
Lay the bits of skin on the bottom of a pan. It needs to be something with an edge. If you use a flat cookie sheet the oil and fat, and there will be oil, will run off the edge and your oven will be smoking for weeks.
Place the bits of skin in the pan, sprinkle in a little more olive oil and a bit more salt. Place in a hot oven and keep a very close eye on it. Depending on how hot your oven is you can go from perfect crackling, to burnt, to slightly on fire, in about two minutes. However if the oven is too low it won't crackle up at all. Don't try to crackle it while it's still on the roast. You'll just dry out the roast.
While that's happening fish out the cloves of garlic and put them into a separate cup or bowl. They will be hot and you want them to cool for a few minutes.
Put the green vegetables on so you can feel like you're eating something healthy.
Check the crackling. Poke it with something to see if the top is firm and crunchy.
Pour the juice from the bakepan into a pot. If you know how to deglaze the pan and you want to do all of that go ahead.
Check the crackling.
Next squeeze each clove of garlic into the pot. This is why you didn't peel it, so it stays nice and mushy. Put in a little black pepper if you want. Put the whole thing on medium heat and begin to thicken with flour, corn starch, or whatever your preferred gravy making method is.
Check the crackling.
If you're not going to have enough gravy to go around here are a few tricks. If you're boiling the vegies you can add a bit of the vegetable water. It shouldn't dilute the garlic flavor too much. If you have beef stock you can use some of that. Don't use bouillon cubes. This gravy is going to be salty enough as is.
If you've used vegetable water, and flour and now your gravy is pale and pasty looking, here is a weird trick. Vegemite/Marmite. Yes, that nastyass shit that antipodeans scrape off the bottom of beer vats then spread on toast. Take a little, like half a teaspoon, and mix it in. The brown coloring will make your gravy look a little more like gravy and it will get a bit of extra, more or less unidentifiable, flavor.
Check the crackling. If it's crispy and not burnt congratulations.
Now cut the meat and plate everything up nice and pretty. I like to serve it with sliced oranges as well.
Unless you have a big family or a small roast you should have lots of leftovers. Wrap them up and put them in the fridge because you are going to use them later.